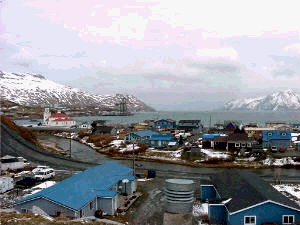 This is Unalaska (near Dutch Harbor) Alaska, as seen from the hill overlooking the town. Your seeing what the town looks like from the left to the right, including a fishing boat leaving the harbor, and (below) the Elbow Room Bar.

Some History
During World War II, Dutch Harbor came to life as a base for PBY Aircraft, sailors and soldiers. Restricted from town (and any drinking establishments) except for one hour per day, the visiting military found ways to make the most of that one hour. If you go to Dutch Harbor (not shown on this web site), you can still find some of the officer housing, some concrete bunkers and the remains of the PBY base (now the islands airport).
On April 12, 1966 Larry Shaishnikoff and Carol Moller, the owners, were able to purchase what's now known as The Elbow Room Bar, LLC, and the house across the street for a only $800.00. Larry quickly converted the Blue Fox Cocktail Lounge into what is known today as The Elbow Room Bar.
Now we shift a little forward to the gangbuster 80's. Day's when the waitresses and band's could make several hundred dollars in tips per night from fishermen who were making thousand's per day. Yes, there were occasional fights, but usually the patrons would push out who ever was fighting onto the street outside, and the bar would lock the door till everything was settled down again. After all was said and done, the two "contestants" would usually clean themselves up and buy everyone a round - fight over, everyone friends again.
Things are a little more quiet these days. But it's interesting to find how many people all over the world know about this little bar near the edge of the earth, and how many have walked through these doors, or know someone who has, sometime in their life.
To make a selection, Just click on the Life Ring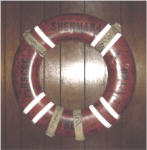 Visit The Inside of Our Fameous Establishment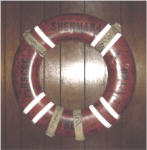 We have Jackets, Sweatshirts, T-shirts, Hats and more, Come & See !!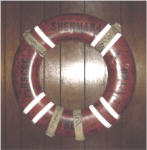 Would you like to E-mail or Phone or write us?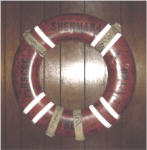 Back to the top of this page