2000 ATLATL EVENT
WAA contest in Unalaska - Dutch Harbor
Held September 3
---

Bobbie, Erin , and Emil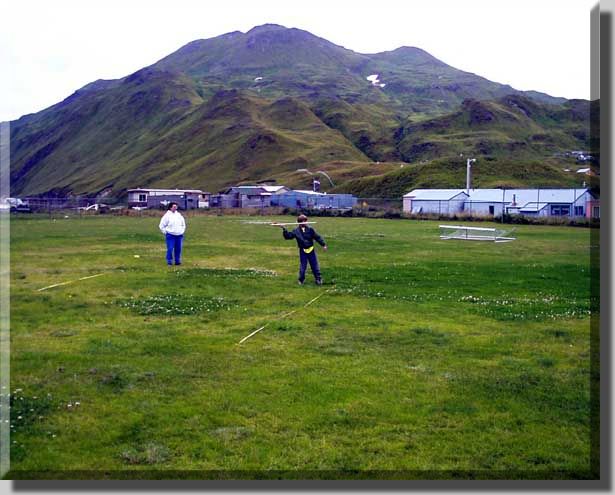 Bobbie Lekanoff, James Frojen


Chris Eckhart


John Bush


standing; Rhonda, Chris, Jim, Bobbie, James, John
sitting; Erin

---
The weather was nice and dry, and the overcast skies kept the sun out of our eyes. The wind was from the North at 15 mph which is as good as it gets around here. We had 10 ISAC contestants, and half a dozen onlookers, and couple of dogs, a great turn out for a dry Sunday over a three day weekend.
After the ISAC we threw a few from a sitting position which is a traditional Aleut exercise to prepare for hunting from kayaks. Lastly we threw a distant contest, but most of the group had wondered off by then so we elected not to measure the distance, and the results of that was that Emil Berikoff did the best.
Jim Dickson

- VOLCANO OBSERVATORY -|- UNALASKA CITY SCHOOL -|
|- Williwaw Weather Links -|- Unalaska Methodist Church-|

|-MUSEUM OF THE ALEUTIANS - |- UNALASKA VISITORS BUREAU-|

|-WORLD ATLATL ASSOCIATION -|- HOLY ASCENSION OF OUR LORD CATHEDRAL UNALASKA-|

|-UNIVERSITY OF ALASKA FAIRBANKS -|-CITY OF UNALASKA -|

All content, graphics and
images contained throughout are Copyright (C) 2000-2009 by Jim Dickson
and are protected by United States and International copyright laws.
No text, graphic or image may be used whole or in part, individually,
or as part of a derivative work without express written permission.
All rights reserved. Revised: March 9, 2008
http://www.arctic.net/~dickson